Start your interior design project with Studio 12 Designs
Studio 12 Designs' studio and showroom is located in Theale, Berkshire and is owned and run by Registered Interior Designer Claire Tull.
Specialists in the design, renovation, and extension of homes, private practice clinics, offices, and boutique hotels.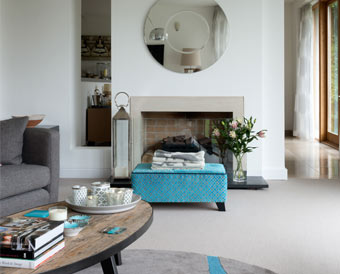 Your Interior Design Project
Whatever your project, we asses, plan and fully implement the interior design for you.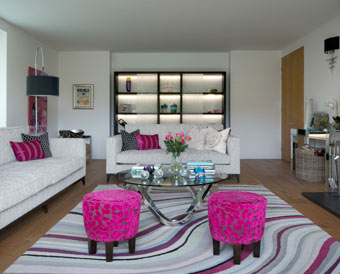 Made To Measure Furniture
For furniture and furnishings designed and made just for you, we offer a made to measure service.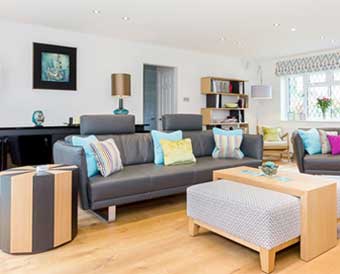 Consultation Packages
Get expert advice and have peace of mind before you embark on your project.
UMBREEN
What our clients say…
"Claire brings her own ideas to the table whilst never trying to impose these upon you. For clients who require more hand-holding, she brings her full design experience and mood boards with samples to the scenario. She brings a patient and gentle approach to the decision making process, whilst keeping the clients budget in mind as well as dealing with the discrepancies of desired look between householders!"
Pennie Benjamin
"When it comes to major pieces of work Claire has kept us well informed of progress and always stuck to her original timetable and budget. A further aspect of Claire's work that stands out is her flexibility in managing our tastes and requirements, however challenging. We feel that we can turn to Claire for assistance on any aspect of interior design and be confident of a first-class product delivered in a timely manner."
Stephen Daintith
"The unexpected side effects have both stunned and delighted me. Redefining the rooms and giving each room a clear function not only has changed the look and flow of the house, but also family life!
The children used to rarely play computer games together, but now they play games, watch a film together in the den and use the study for their homework which they also do together. It may take longer but judging by the chatter and laughter it's a lot more fun.
The transformation is stunning, and the positive impact on our way of living downstairs is amazing."
Ann Edwards
"Claire is a true inspiration - I want to buy another house just so I can have the pleasure with working with Claire again! A true professional who has an amazing knack of understanding our needs and put it all together effortlessly."
Tam Cowell-Vu
Your Lifestyle. Our Design.
It's important to us that our designs are inspired by you, work for you, and are a reflection of your personality, lifestyle and aspirations.
So if you are looking for an interior design studio that tailors its service using the RIBA Plan of Work 2013 to meet your project needs, to work and collaborate with you to get the very best outcome, then look no further.
Studio 12 Designs create unique, elegant and supremely comfortable interiors that are timeless combined with exceptional customer service.